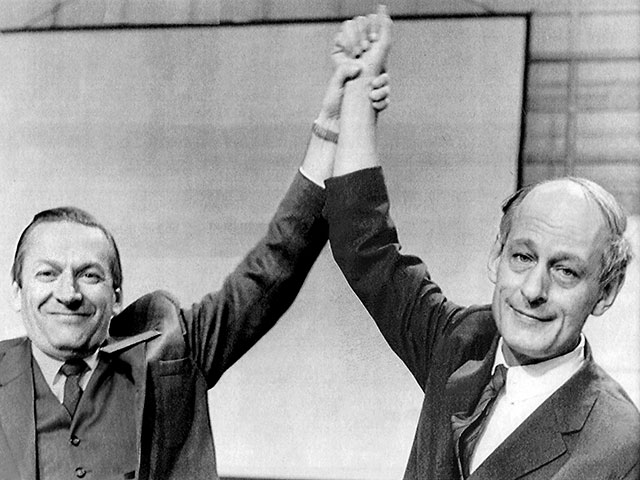 Gregoire, at left, led a forerunner of the Bloc Quebecois
sitting as a separatist MP in Ottawa before
joining with Rene Levesque
Gilles Gregoire
was not only the co-founder of the Parti Quebecois, he was also an incorrigible pedophile.
He was busted not once, but twice for multiple liasons with little girls aged as young as 12.
The first of these convictions occurred when he was party president.
Rather amazingly, his
June 1980 conviction and fine of $600
for having had sex with girls aged 15 and 16 went unreported in the media and he was re-elected without word getting out.
Then in March 1983, when Gregoire was already aged 56 and married, he was busted anew for the same crime, having had sex with
seven girls
between 12-17 years of age.
He had plied the girls with cash and even got some of the older ones to try to procure younger girls for himself. He was sentenced to
two years less-a-day
in prison, which meant he could serve in a provincial institution. He had faced up to 14 years.
One 17-year-old testified that Gregoire paid her $1,600 for sex acts performed at his Ste. Foy apartment between the fall of 1982 and spring of 1983.
He persuaded them to do a threesome while they were drugged up on beer, marijuana and "other drugs." He persuaded one to bring him a 12-year-old girl who lay naked from the waist down on his bed. He then performed oral sex on her while two other teens watched on. The 12-year-old was upset, however and left with $140 while the other two girls present split $400.
The 17-year-old later admitted that she had attempted to blackmail him and Gregoire indeed apparently had recordings of those attempts, but it didn't change much however.
That's all we know of the specifics of his escapades because Judge Andre Sirois ordered
a publication ban
after the first day, saying it all sounded too pornographic.
Gregoire was under suspicion after a relative of one of the girls noticed the wee lass hauling more cash than she could explain. So the relative reported it to Jean-Claude Verret of the Quebec City police youth protection team who conducted a three month investigation and ended up charging Gregoire for pedophile-related crimes committed between April 1982 and January 1983.
Gregoire was elected to the House of Commons as a Social Credit MP in 1962 and launched the Ralliement National in 1966, which he merged with the PQ in 1968. In fact, he named the Parti Quebecois, a monicker which Levesque initially opposed.
Gregoire served as PQ Vice-President under Levesque from 1968 to 1972. He lost his first attempt to become a provincial MNQ in1972 but was elected to Frontenac in the Eastern Townships in 1976.
He was also once robbed at knifepoint in his apartment by two young hooded robbers, who tied him up with his own ties and left him in his bathtub. It's unknown whether that event was related to his affection for little girls.
When the accusations came out in 1983, Gregoire
lashed out
at police, saying that they did not have the proper warrants but Pierre-Marc Johnson dismissed that charge. Gregoire also said that he found himself exposed to the young girls at parties he attended along with politicians, businessmen and other Quebec City notables.
If that was true, Gregoire could potentially have brought down some high-ranking sex-ring participants and there was some suspicion that Judge Sirois protected others in ordering the publication ban.
But whatever Gregoire did, he took it to his grave in 2006 when he died at age 80.
His victims are still presumably alive, probably aged somewhere between 42-52.
If there's a way for more truth to come out, this would be the time.